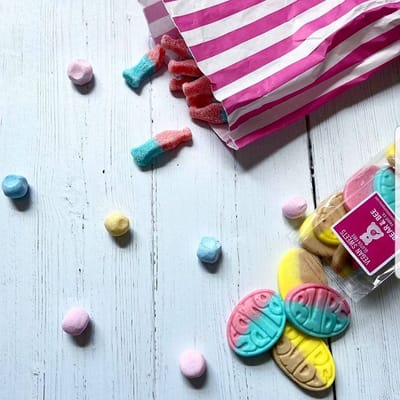 We know how hard it can be to find great pick 'n' mix sweets that cater to specific dietary needs, which is why we've done all the work for you! All of our sweets are 100% vegetarian and vegan, and we also stock an extensive range of gluten-free treats.
You won't find any gelatine, honey, milk, eggs, alcohol, nuts, beeswax or animal-derived E numbers in our hand-picked range. What you will find is delicious, ethical sweets that you can enjoy any time!
Our sweets are:
Vegetarian
Vegan
Gluten-free*
Nut-free**
Alcohol-free
Halal
Cruelty-free
*Please note that not all of our sweets are free from gluten. Check the "gluten free" filter when browsing our range.
**Please note that our fudge may contain nuts but uses nut-free ingredients.
Not only are our sweets suitable for those with specific dietary requirements, they're also simply delicious! We've taken the time to select only the tastiest treats that we know you'll love, so you can share them with anyone—though you'll probably want to keep them all to yourself!
Visit our store